About
When Sign Express first opened in 1990, the idea was simple, show that signage could be produced quickly without sacrificing quality. Over 30 years later, our devotion to using high quality products, creative solutions and dedicated work still rings true today.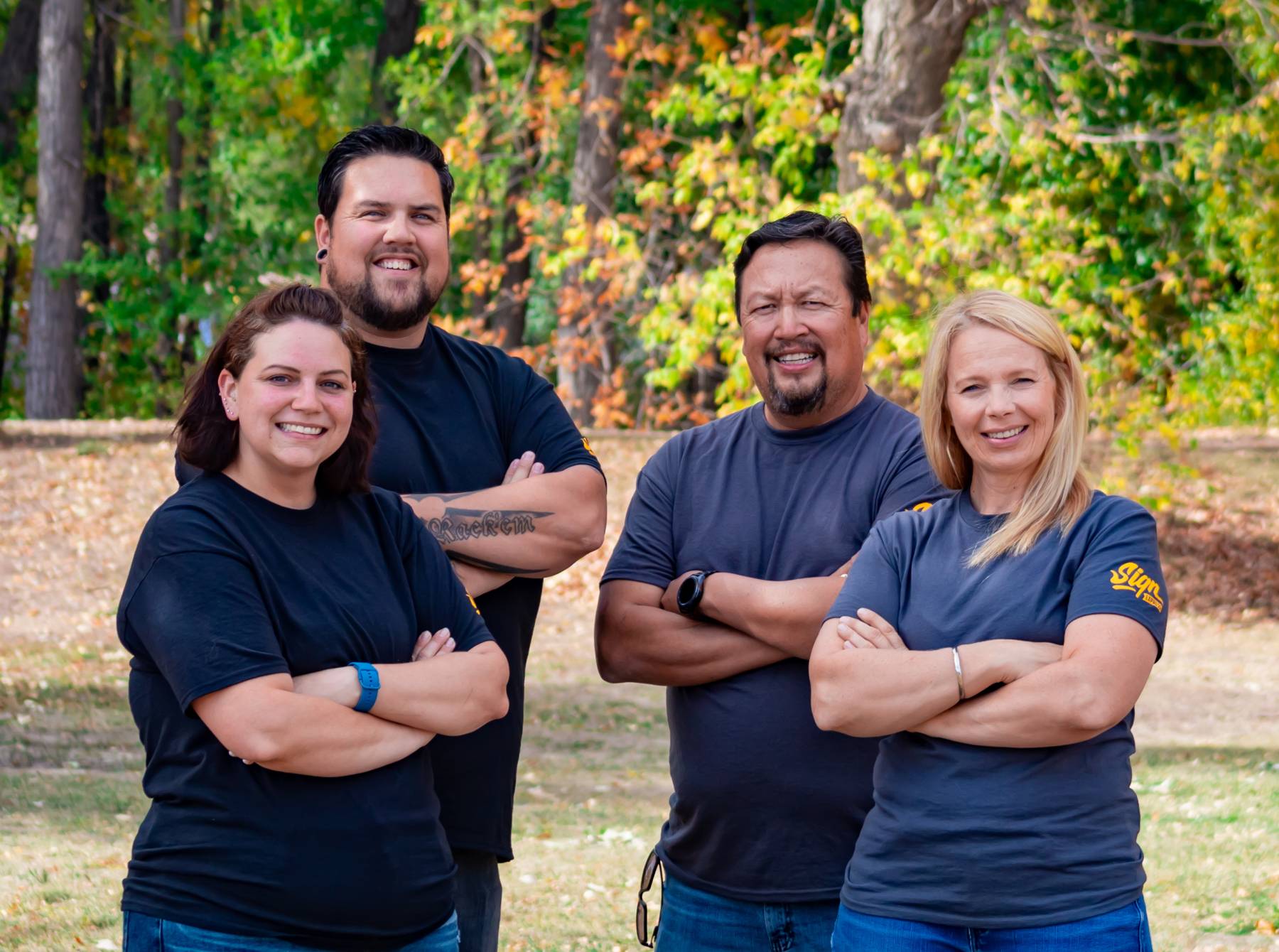 History
Established in 1990 by Gene and Roxy Hunter, Sign Express continued to grow and with growth more employees were needed. They had a great foundation of employees especially with Mike McMeekin at the helm, however they needed some summer help.
In the summer of 2001, Cody had difficulties getting hired being only 15. Gene and Roxy took him in and began what would be the foundations of Cody's career. They taught him everything about the business from weeding vinyl, installs, engraving ADA signage, printing, graphic design etc. He absorbed everything from Gene, Roxy and Mike. Cody worked hard through the years and learning the techniques of a skilled sign maker.
In 2007 Cody met his future wife Holly, who at the time was working in the marketing department for Coca Cola High Country. They married in February 2010. Through the years, Cody kept honing his skills and talents in the business. His dedication to the business and craft moved him to the Shop Manager and Lead Designer when Mike took another opportunity. While bittersweet, Mike knew he was leaving the shop in good hands.
In 2019 Gene and Roxy were looking to retire and could not think of anyone else they wanted to carry on their legacy. Cody and Holly jumped at the opportunity. They would need some help running the business though, so they joined forces with Cecil and Stephanie LaGrande.
Cecil is Cody's oldest brother. He met his wife Stephanie in 1995 and they married in 1999. Together they have 2 children, Grace and Martin. Cecil graduated from Keller, top of his class in 2005 with a Master's in Business Administration.
Together in early 2020 with Cody's knowledge of sign making & creative eye, Holly's marketing skills, and Cecil & Stephanie's business operating knowledge, they purchased Sign Express. They truly made it a locally owned family business that will be sure to carry on the legacy of producing quality signs. To date, they can still sit down at the same table at Thanksgiving.